Welcome!
We are delighted to welcome you to the Museum Burg Zug.
Opening hours/contact
Opening hours museum
Tue-Fri: 2 pm to 5 pm
Sat-Sun: 10 am - 5 pm
Mon: closed
On request, schools and groups are also welcome outside of the official opening hours.
Public holidays
The museum is open from 10 am to 5 pm on all national and cantonal (Zug) public holidays including New Year's Eve, Easter Monday and Whit Monday.
It is closed on Good Friday, Christmas Eve, Christmas Day and New Year's Day.
Contact
Museum Burg Zug
Kirchenstrasse 11
CH-6300 Zug
T +41 (0) 41 728 29 70
info.mbz@zg.ch
Admission fees
Admission fees
Adults: CHF 10
Teenagers up to 25 years: CHF 6
Children up to 16 years: admission free
Groups of 10 persons or more: CHF 8
IV/ISIC: CHF 6
Kultur Legi: CHF 3 discount
Enjoy!: 20 % discount
Free admission
First Wednesday of every month
Friends of Zug Castle
Members of ICOM / VMS
Swiss Museums Pass
Members Raiffeisen
Swiss Travel Pass
Membership cards which entitle their holders to free admission or a discount must be presented at the front desk.
Simply purchase your ticket directly from the online shop.
How to find us
The Museum Burg Zug is located in the middle of the historical centre of Zug.
Take buses number 1, 2, 3, 5, 11, 13 or 14 from the train station in Zug to Kolinplatz or Zug Burgbach. From there it is a 2-minute walk along Kirchenstrasse.
Parking is available at the Casino and Frauensteinmatt car parks.
Cafeteria/shop
Castle café
The self-service castle café invites you to relax during your tour of the museum. There is a small selection of cold and hot drinks as well as sweet and savoury snacks.
In summer there is seating under the lime trees in the secluded courtyard .
Castle courtyard
The castle courtyard is a public oasis of calm. Come in and enjoy the peace and quiet in an historical setting.
Museum shop
The museum shop offers a small but attractive assortment of gifts for children and adults:
knights' helmets, swords and shields, castle tea, Luthiger coffee, castle chocolate, games, postcards, scientific publications, paper model sheets and a changing set of items associated with the special exhibitions.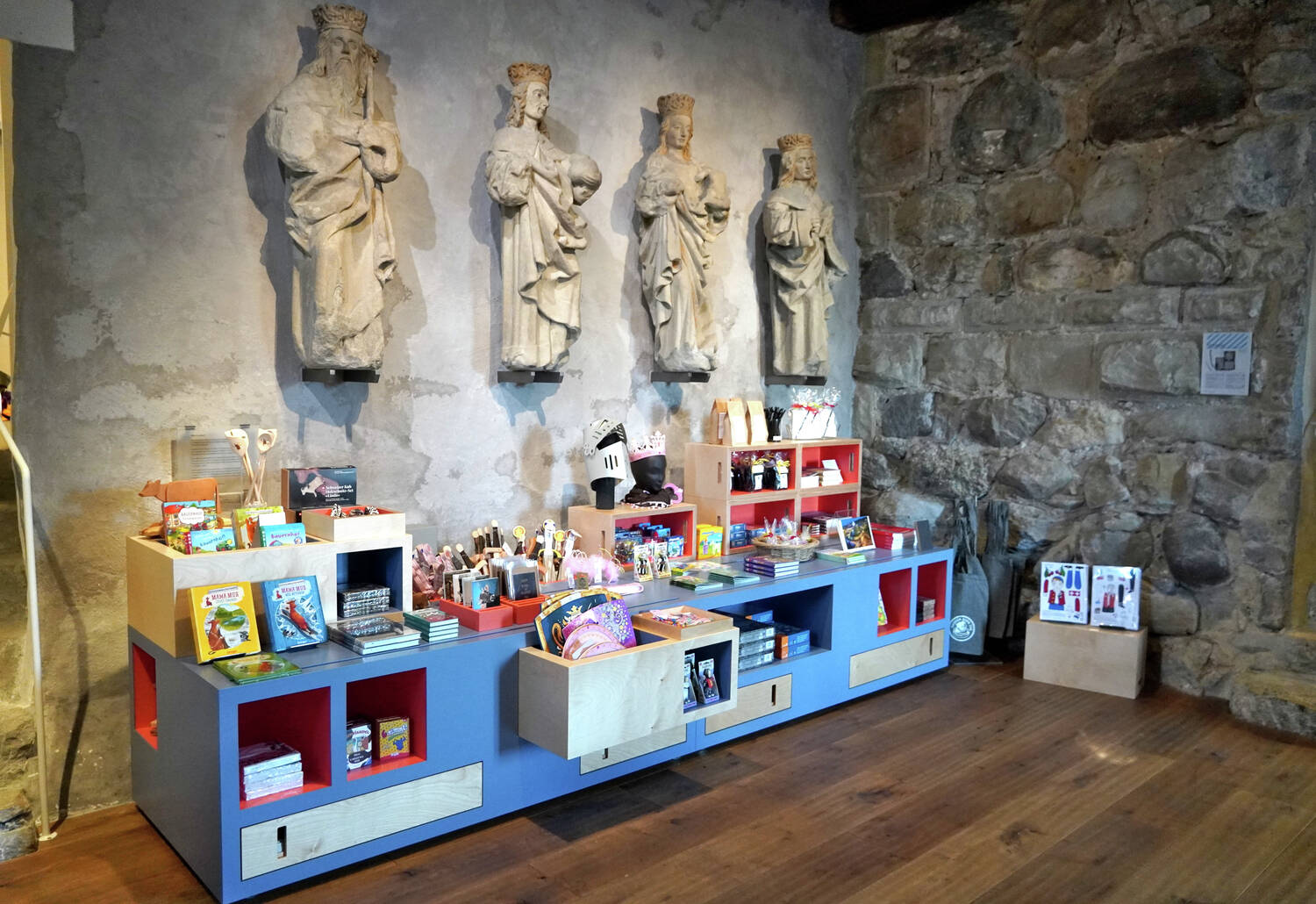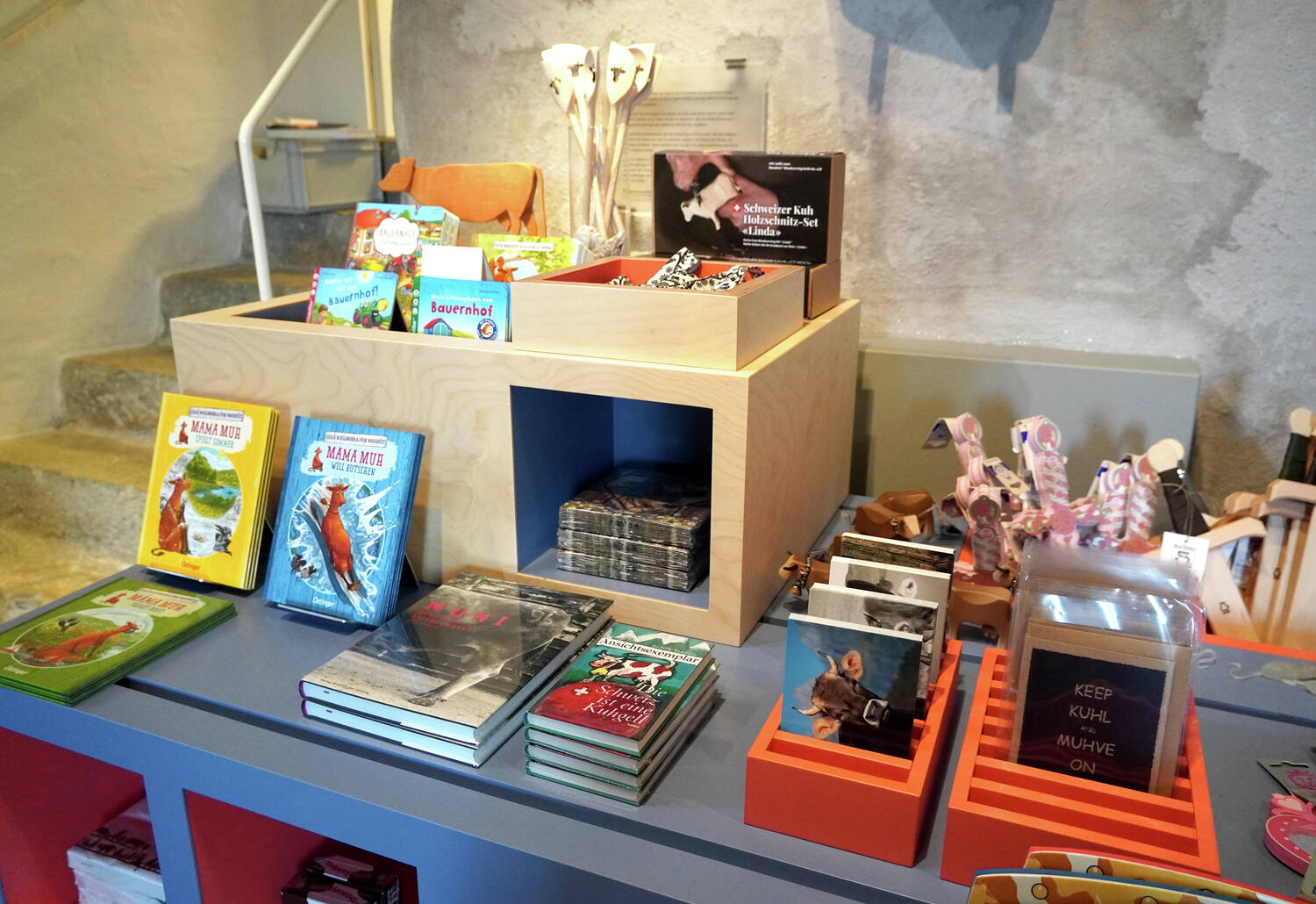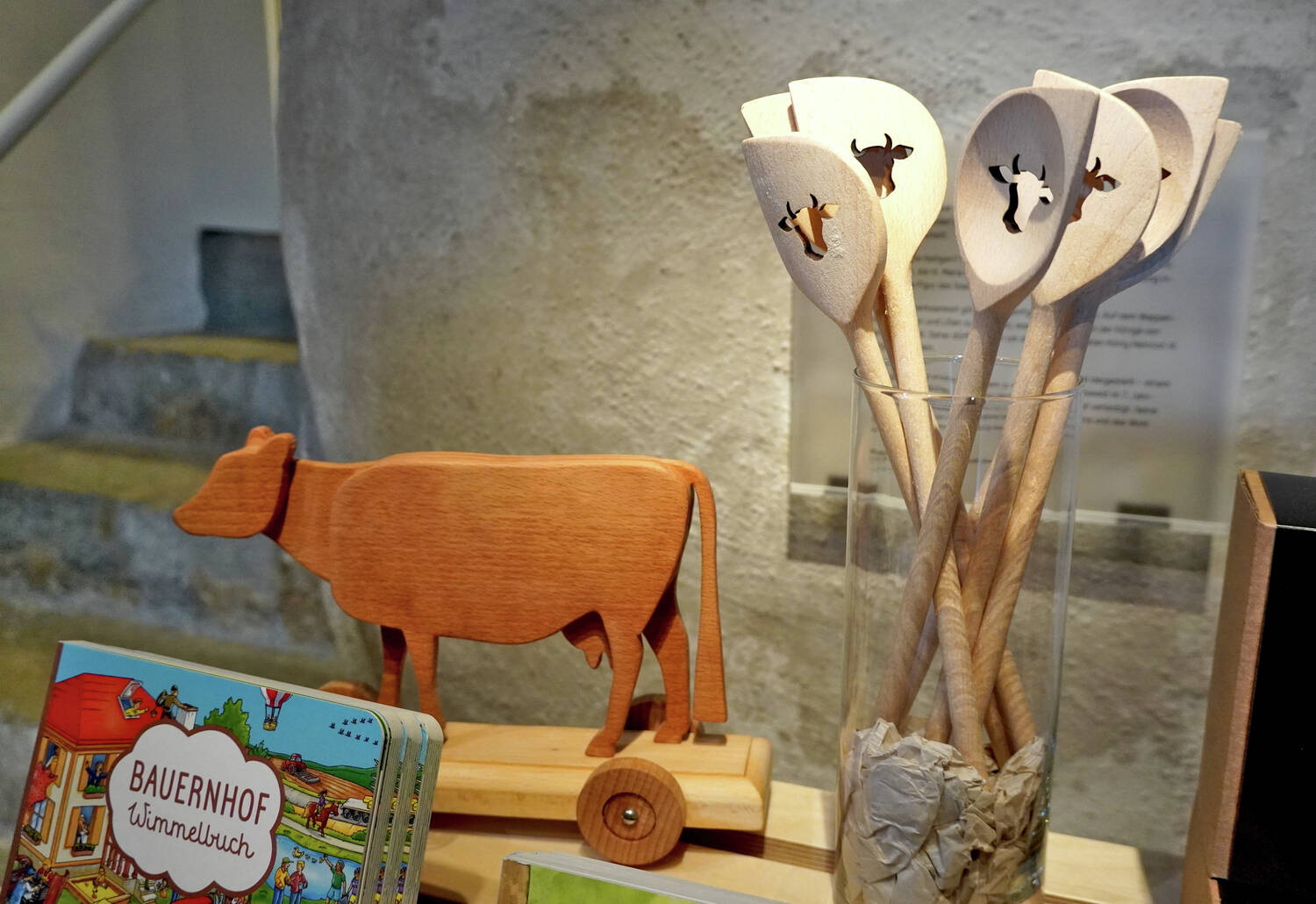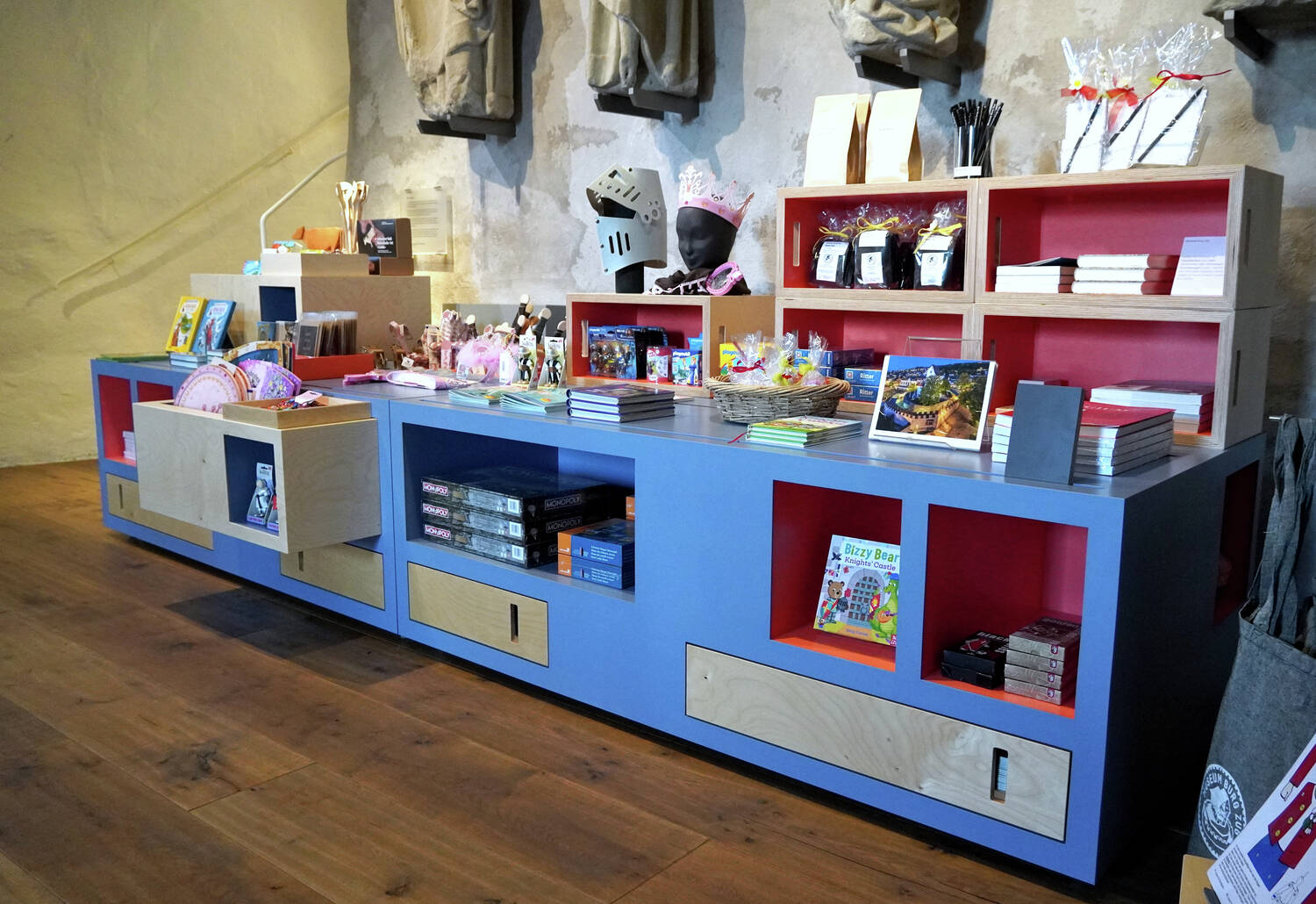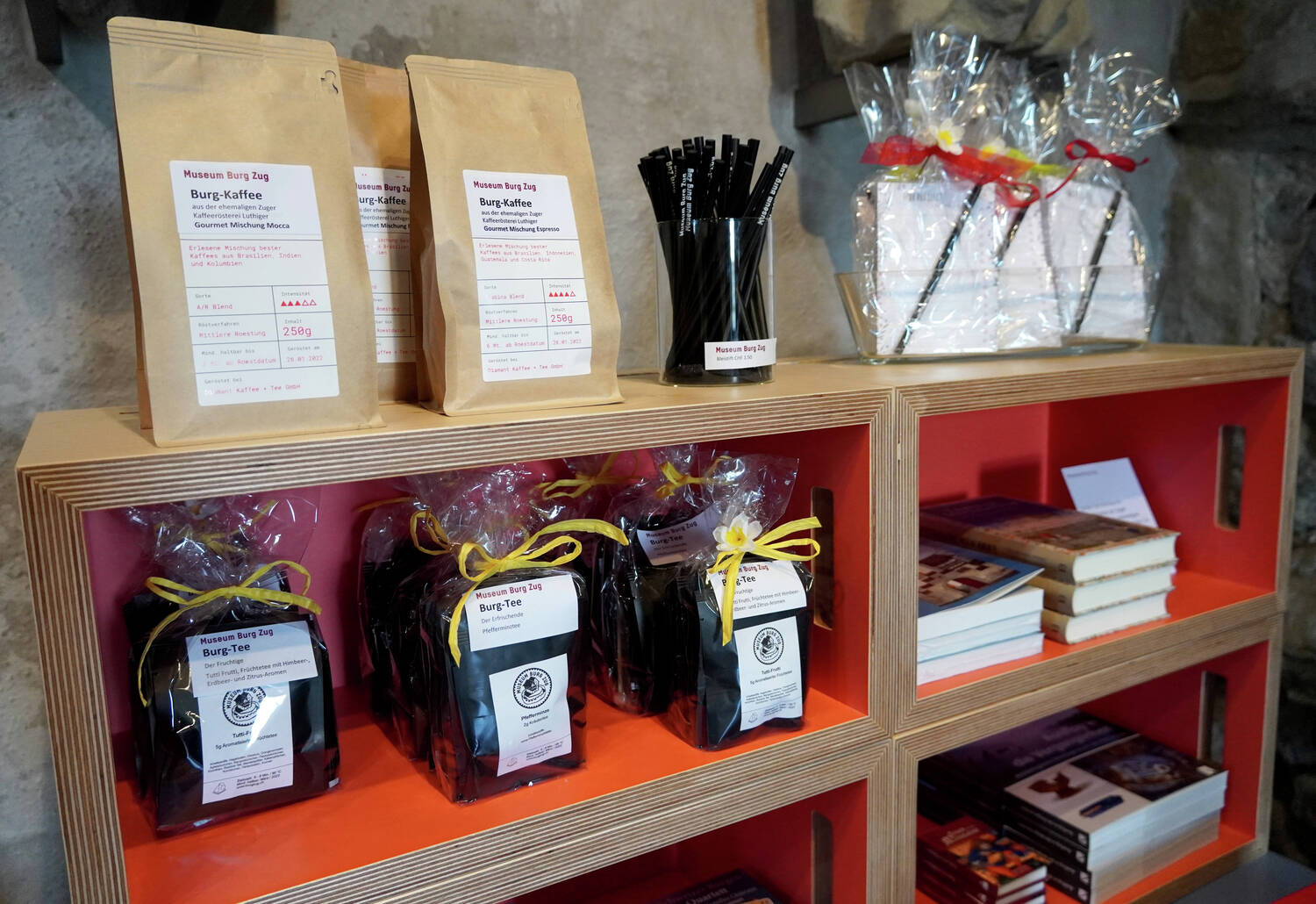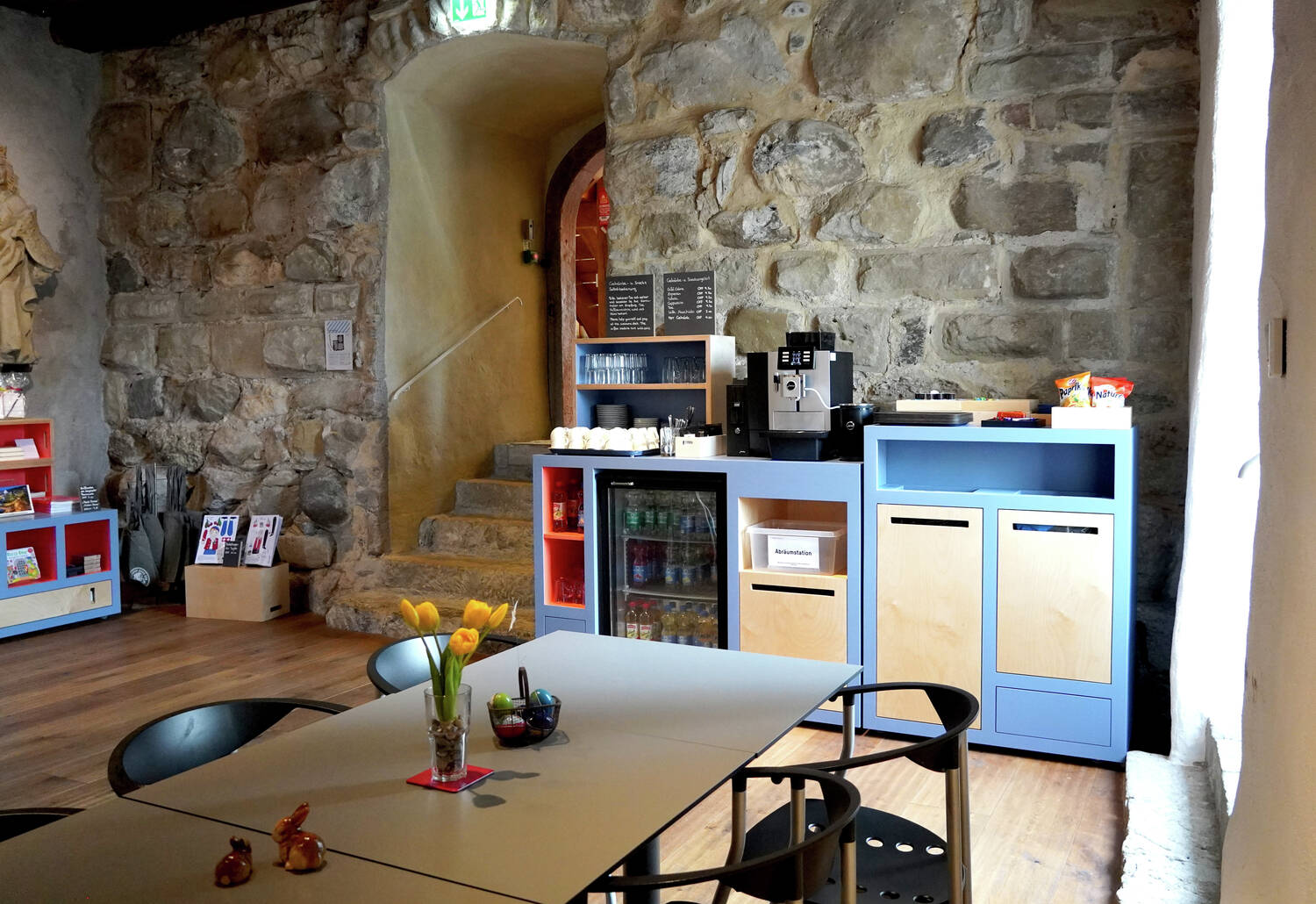 Guided tours
Public guided tours
The museum offers various guided tours of the permanent exhibition and the special exhibitions.
Private tours of the castle
A tour of the castle will give you an insight into the permanent exhibition which was newly designed in 2014. The building itself has a pleasant atmosphere and bears witness to a long and turbulent history the traces of which can be seen everywhere. The exhibition highlights various aspects of Zug's history.
Guided tours are suitable for corporate events and private groups, for instance for family gatherings, school reunions and birthday celebrations.
They can be combined with a culinary event.
Cost: from CHF 160 plus admission
Private tours of the special exhibition
Let us take you and your friends on a tour of the special exhibition. You will receive fascinating additional information and have the opportunity to ask questions freely. Book an in-house drinks reception to finish off the tour in style.
Cost: from CHF 160 plus admission
You will find all our fees and prices in our fee schedule.

---
Rental & drinks receptions
Drinks receptions
Would you like to spend more time within the historical walls with your guests after your tour of the castle?
We would be delighted to pamper you with homemade culinary delights in the café or in the atmospheric castle courtyard. From small snacks to a finger food buffet, we offer three different types of drinks reception.
We will be happy to send you our various offers and price categories.
Rental
We are happy to rent out the magnificent castle courtyard for your private event, or the castle rooms as a unique location for your wedding photographs.
Fees & information
Information and booking during normal opening hours at
041 728 29 70 or info@burgzug.ch
All fees are listed in our fee schedule.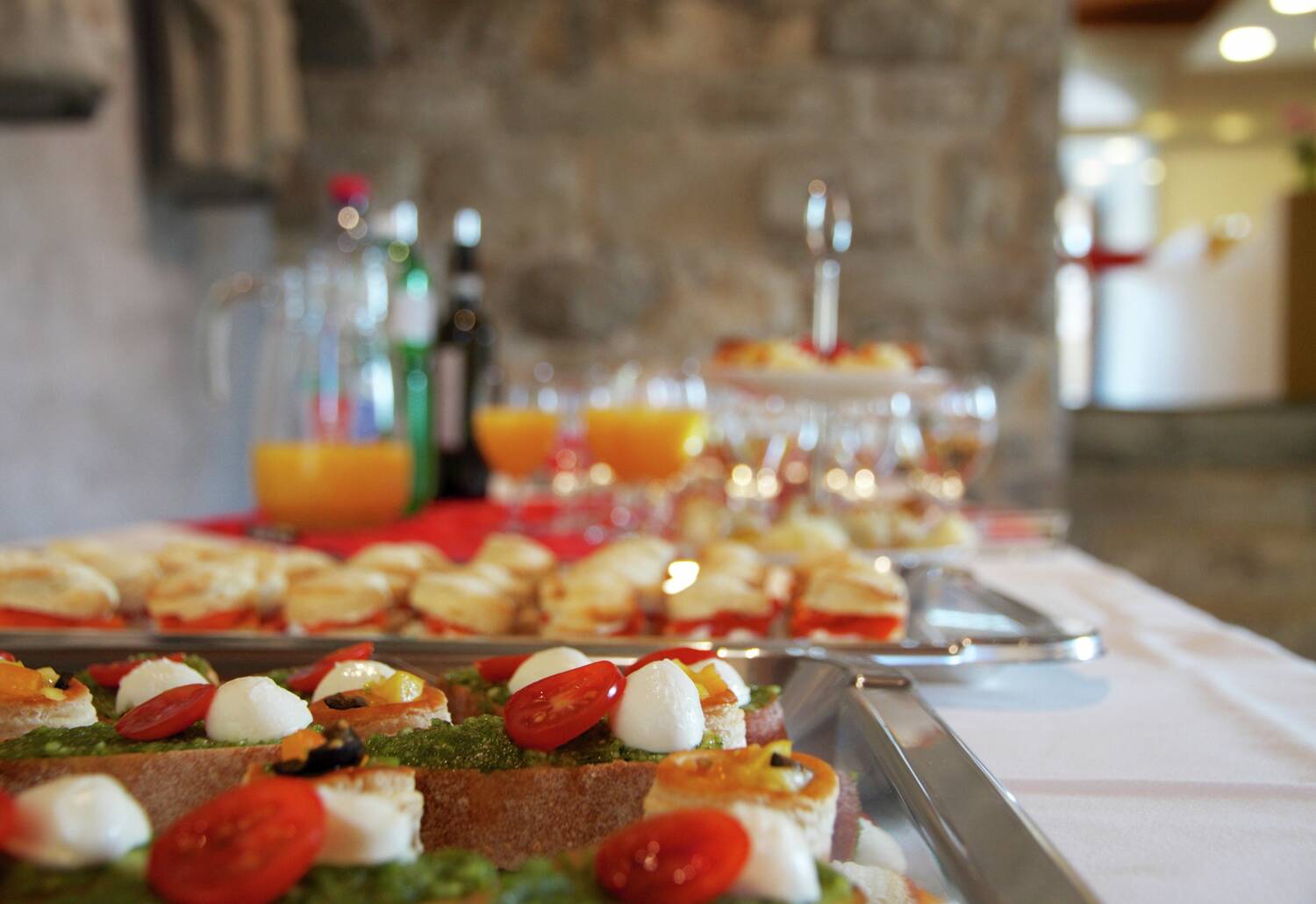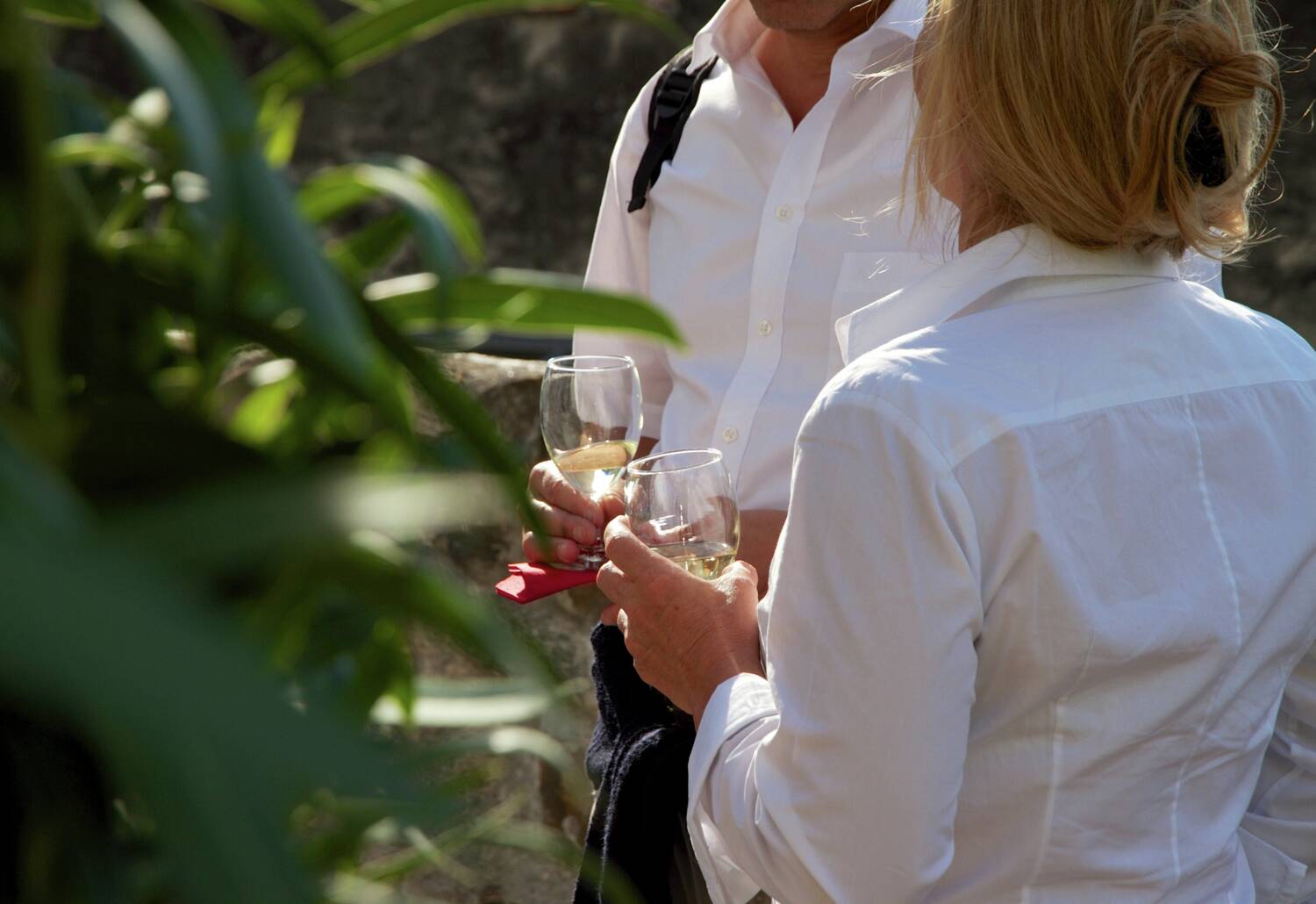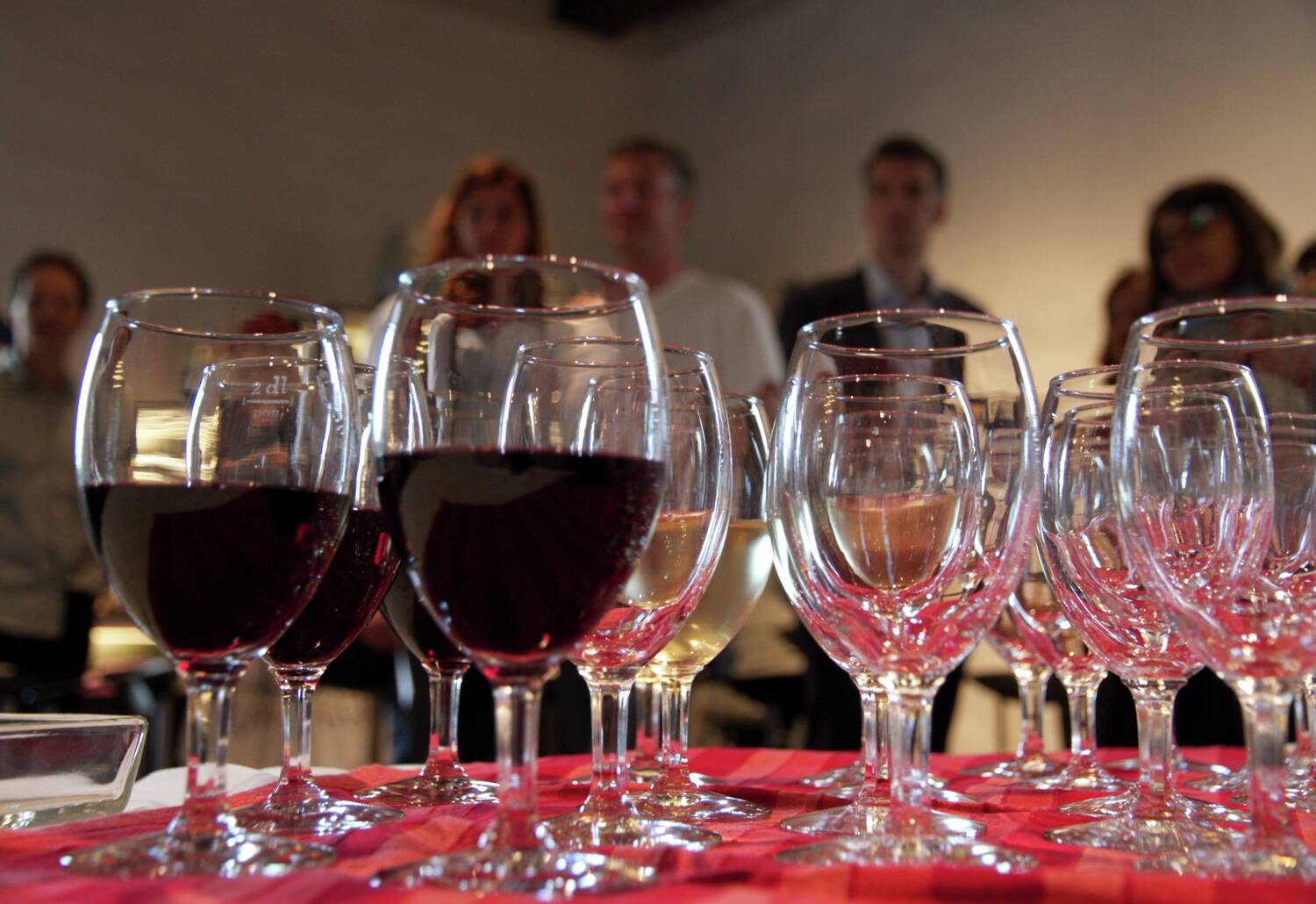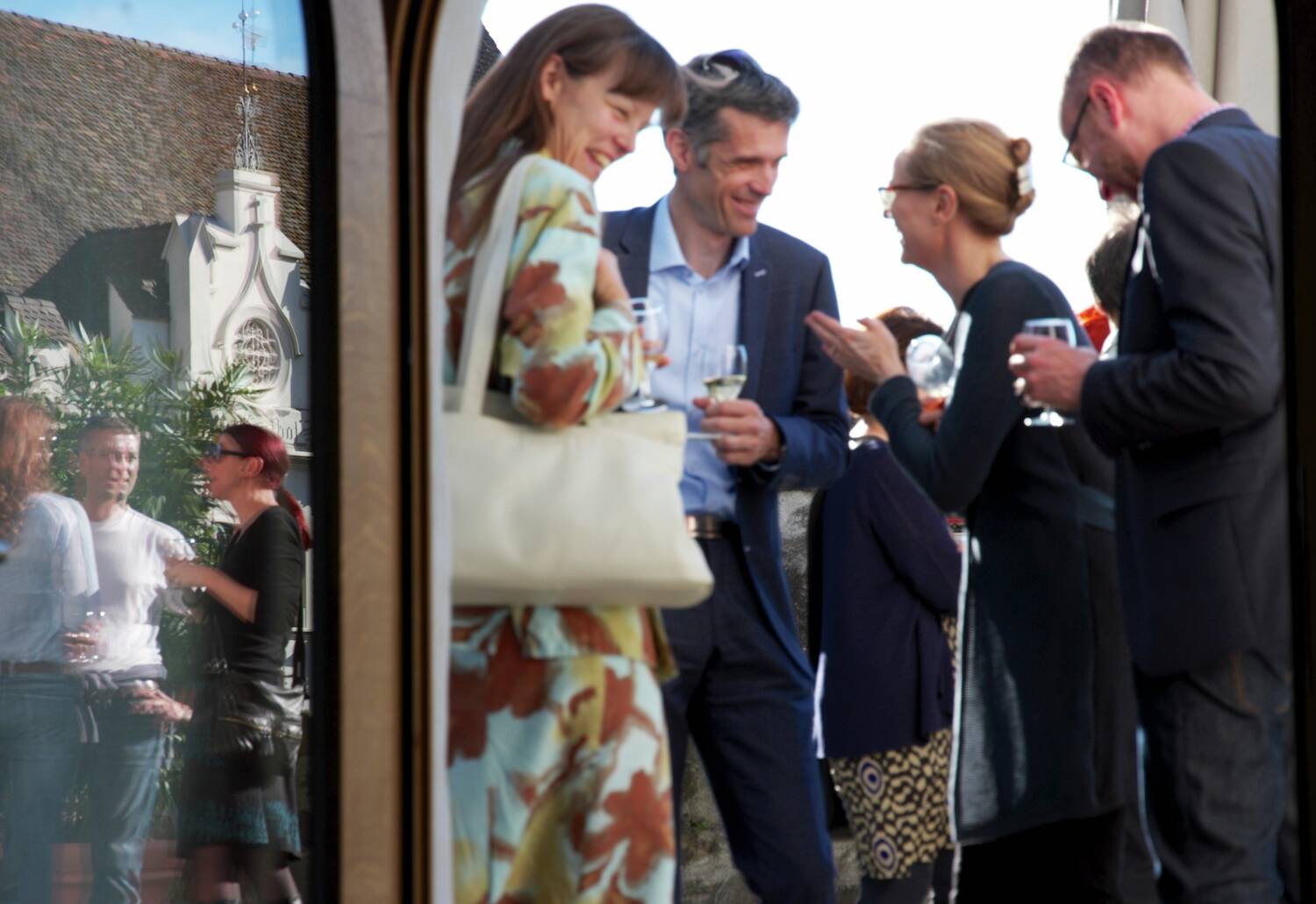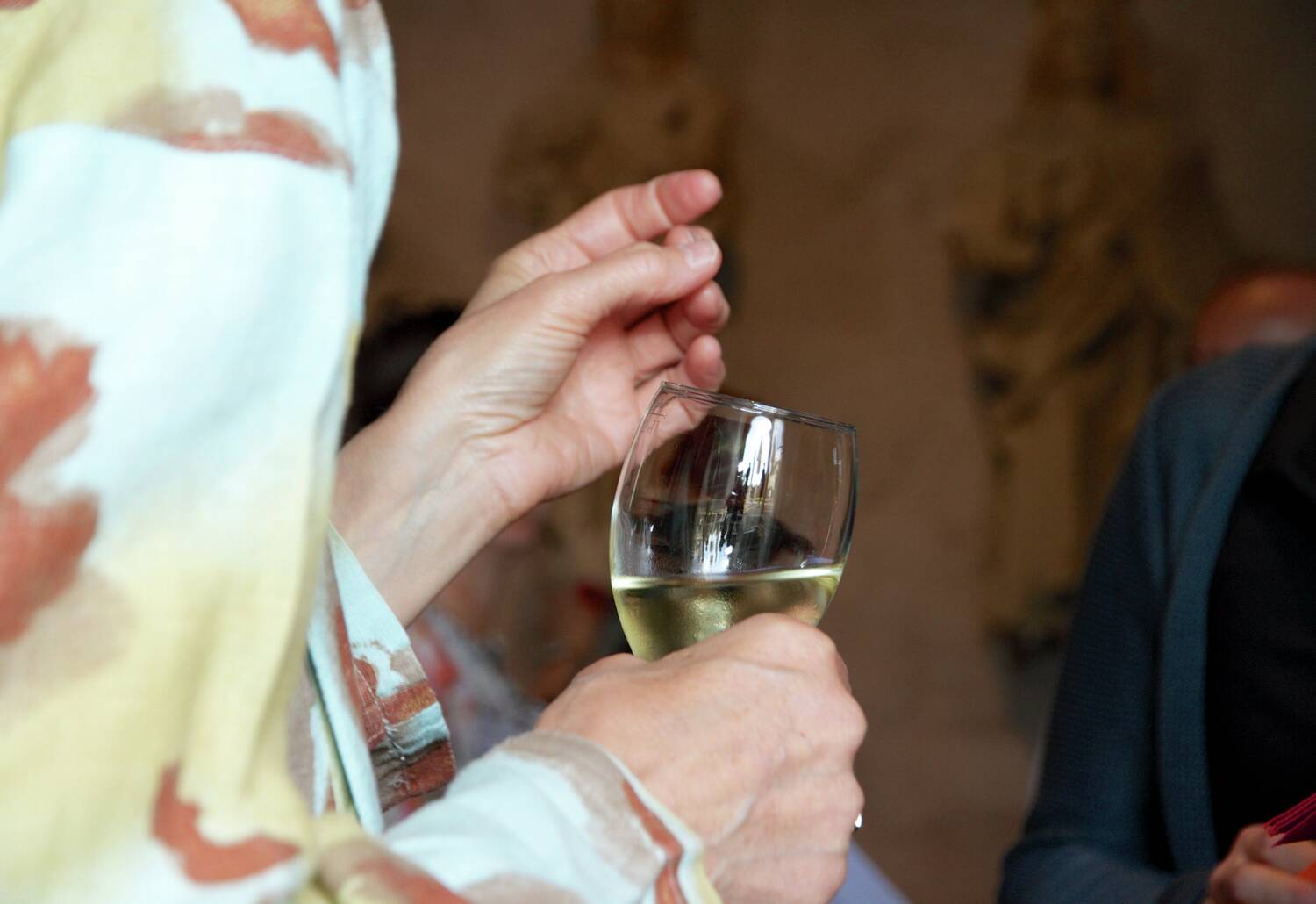 Information
Photographs
Taking photographs in the exhibitions is allowed. The use of a tripod and flash, however, is not permitted.
Castle café
The castle café offers hot and cold drinks and small snacks. Picnicking is allowed in the castle courtyard.
Infants
The museum is located in an historical building with lots of winding stairs and hallways. The exhibitions are therefore not accessible with prams. Small prams can be deposited next to the welcome desk, baby changing facilities are available. Visits to the exhibitions are recommended from the age of 3. Offers for children and families can be found here.
Accessibility
Visiting the museum in a wheelchair
Our museum is located in an historical building. Some of the rooms are therefore only accessible via stairs and visitors with wheelchairs may require assistance. There is a small elevator (102 x 110 cm , door width 89 cm) which provides access to the special exhibition room and the three upper floors. The 4th floor is only accessible via steep stairs. Some of the corridors on the upper floors have level differences with steps. On weekdays, our in-house technicians will be happy to assist you during your visit with a wheelchair. Kindly make an appointment for your visit in advance by calling our welcome desk: 041 728 29 70 (during opening hours) or emailing us at: info.mbz@zg.ch
Sign language
The Museum Burg Zug offers public guided tours of the special exhibition with a sign language interpreter.
Currently "SWISS. BROWN. BREEDING. Not natural, all cultural"
Monday, 18/04/2022 | 2 pm | CHF 10
Sunday, 13/11/2022 | 2 pm | CHF 10